— Overview —
Pauli & Uribe Architects is a unique Boston-based architectural firm specializing in residential and small-scale commercial design and renovation, including historical buildings. Launched in the spring of 2007, the team at Pauli & Uribe Architects brings a love for design and a commitment to artistic integrity to all their projects.
— Profile —
Pauli & Uribe Architects is a full-service boutique architectural design firm specializing in high-end residential and small-scale commercial design and renovation. Launched in 2007 by Monika Zofia Pauli and Juan Guillermo Uribe Rubio, their expansive portfolio includes new construction and renovations in Boston's Historic Districts of Beacon Hill, Back Bay and the South End; Brookline, Weston, Wellesley, Nantucket, Marblehead, Osterville, Duxbury, Wyoming, France and Costa Rica.
They offer complete architectural services - from stage-one planning and design to construction supervision to interior design. With over 30 years of architectural experience, Monika Zofia Pauli and Juan Guillermo Uribe Rubio manage to continue their practice, serving their clients on custom residential and commercial properties.
Pauli & Uribe Architects brings enthusiasm, creativity and due diligence to each project, while adhering to the philosophy that good design requires direct, organic, mind-to-hand connection. They combine their diverse talents and multinational backgrounds to help their clients' dreams become a reality. Pauli, with Polish and French roots, lends to her work a deep historical perspective informed by studies in art history, urban planning and traditional drawing and painting techniques. Uribe, who studied in Bogota, Colombia, brings a passion for Modern architecture and furniture design, as well as experience in residential and commercial projects. Employing materials and craftsmen of the highest quality, they have set a high standard of design and workmanship that emulates the work of the original master masons and carpenters.
Offering contextually sensitive designs with artistic integrity, Pauli & Uribe Architects helps clients achieve functional and aesthetic goals, while respecting their budgets. Whether designing a new home, making alterations to an existing structure or assisting with interiors, Pauli & Uribe imbues each project with a unique architectural approach that weds traditional stylistic principles with contemporary design appeal.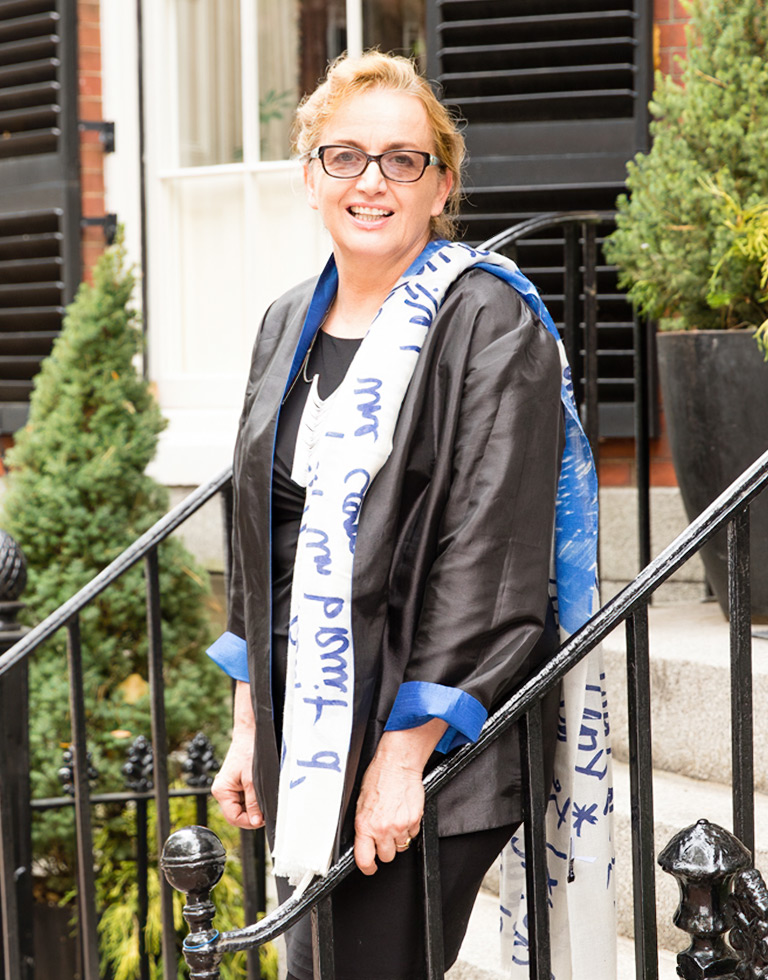 Monika Zofia Pauli
Principal
---
Monika is a licensed Architect in the state of Massachusetts and she serves on the Mid Cambridge Conservation District Commission. She first began her studies in Fine Arts and Architectural History while at Wheaton College in Norton, Massachusetts. She later attended Rensselaer Polytechnic Institute (RPI), where she received a Master's Degree in Architecture.
Upon moving to the Boston area in 1985, Monika joined the architectural firm of James McNeely A.I.A., later to become McNeely & Pauli, and Beacon Hill has been her base ever since. The documents and drawings from McNeely & Pauli have been selected to be preserved and stored in the Historic New England Library and Archives.
Over the years, Monika has worked on numerous projects, both large and small, successfully taking them from the initial concept, through the design phase, approval process, and actual construction. In addition to dozens of residential projects requiring review by the Beacon Hill Architectural Commission, she designed and completed a new 40,000-square-foot facility for Suffolk University, which included an underground basketball court.
Other successful projects include the conversion and adaptive reuse of an abandoned firehouse into a community center and the complete remodeling of the Union Boat Club's squash courts. Monika has designed a new waterfront home and family compound on the island of Nantucket and has directed the renovation and restoration of several nineteenth century historic townhouses on Louisburg Square, including the home of a past presidential candidate and his wife. Farther afield, she has provided architectural and interior design services for the ongoing renovation of a seventeenth century chateau near Toulouse, France, where she also collaborated with artist mother on decorative wall paintings. Their work has been featured in "The World of Residences, Interiors, and Gardens."
Monika enjoys figure skating, skiing, painting and writing and illustrating children's books. Also, her hands-on renovation of multiple nineteenth century homes in America and the chateau in France, gives her an in-depth understanding of the challenges of the craftsmanship and fine art of restoration. She enjoys personally applying faux finishes and murals.
read more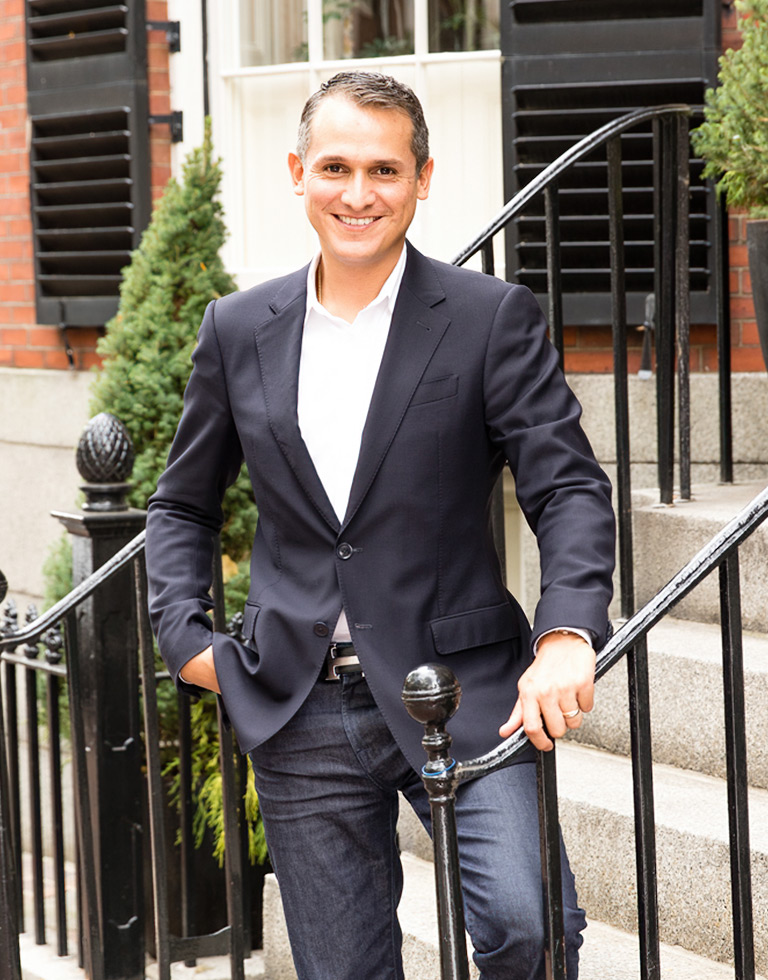 Juan Guillermo Uribe Rubio
Principal
---
Juan studied and received his professional degree in Architecture at the Universidad Piloto de Colombia in Bogotá, Colombia. Upon moving to Boston in 2000, Juan worked with Monika and James McNeely at McNeely & Pauli Architects for six years prior to joining Monika and founding Pauli & Uribe Architects LLC. He has designed and managed residential projects from design, bidding and negotiation phases to completion. His projects include the renovation and restoration of several nineteenth century historic townhouses in Louisburg Square and on Mount Vernon Street, as well as at the Four Seasons One Dalton, Ritz Carlton House Condominiums and Millennium Place Towers and residences at both One Commonwealth Avenue and Sargent Road in Brookline.
Juan brings his enthusiasm, project management, and a fresh perspective formed by his experience and interest in modern architecture, furniture design and whole house integrated systems. He values the nuances of historical fine detailing and welcomes the challenges of renovations. He also renovated a loft in the General Electric original headquarters where he designed the millwork, selected furniture and coordinated the installation of smart home wiring for audio video, voice and data. In his free time, Juan enjoys fishing and open wheel racecar driving, He resides in Weston with his wife, two children and dog Liv.
read more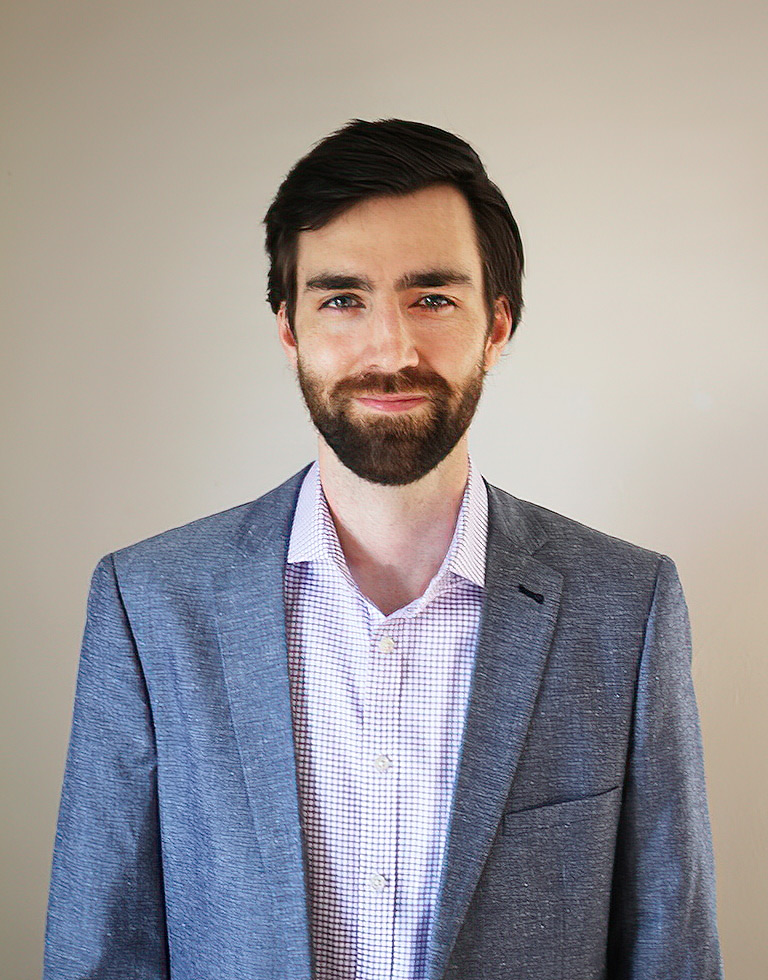 Richard James Pignataro
Architect
---
Richard is a licensed Architect in the state of Massachusetts and holds a LEED Green Associate credential for sustainable building practices. He studied at Wentworth Institute of Technology where he received a Bachelor's of Science in Architecture and Master's of Architecture with distinction. During his graduate studies, Richard served as a teaching assistant to first- and second-year students and has made appearances as a guest critic since graduating. He won the Thesis Award for his work on The Interactive Environment, combining physical architecture and digital media to facilitate interactive public spaces.
In 2014, Richard joined the team at Pauli & Uribe Architects and has served as project architect on single-family, multi-family, and commercial projects. In his experience prior, Richard worked on a wide range of project types and sizes, ranging from a 120-acre master plan of an outdoor shopping, dining and entertainment complex to an intricate garden level condominium renovation. Regardless of project size, Richard's keen eye for detail and extensive experience allows him to succeed in design at any scale.
Richard brings creativity and a diverse design perspective through technological innovation. His digital rendering skills compliment and develop the artistic hand-sketches that Monika excels at. Richard enjoys golf, tennis, and all Boston-based sports teams.
read more
— Our Approach —
" For centuries, the art of drawing conditioned both the perception and conception of the art of architecture. In the design process there can be no technological substitute for that direct, organic, mind-to-hand connection which has served artists and architects so well in the past. The computer, while a useful aid, will never replace the pencil as the designer's most powerful tool."
Monika Zofia Pauli & Juan Guillermo Uribe Rubio
— Philosophy —
We approach all projects with equal enthusiasm – from new residential construction to the renovation of historic properties – and work closely with our clients through the initial concept, design phase, approval process, contractor selection and construction supervision. We strive to ensure that all amenities and features of a project support the client's vision and maintain true artistic integrity in design and functionality. One of our most unique features is the intensive use of hand-drafting, which helps our clients achieve a clear visual of a project, especially during a project's conception, and often inspires new ideas. We also work with building/design teams and adjust the scope of our services to accommodate different client needs.
— Our Experience —
Our combined experience helps us understand and interpret our clients' wishes, going beyond their architectural and structural issues to find an inner sense of style. Our experience with local, national and international clients has proven that true art and beauty lies in the details. Currently involved in multiple residential projects, we approach each project with enthusiasm and an eye for the most precise detailing and artistic integrity. We collaborate with a multitude of quality contractors, craftspeople, carpenters and artisans who share our approach and are essential to the success of the project.
— Hand Rendering Technique —
Central to our approach is the use of hand drawings and sketches to convey ideas, especially during the early stage of design. While a computer is an integral part of our work, we believe the hand plays the most important role in shaping a project from its beginning to fruition.
Monika Zofia Pauli
Member of the Vincent Club, Beacon Hill, MA
Member of the Mid Cambridge Conservation District Commission, responsible for reviewing all proposed construction projects in Central Cambridge, Cambridge, MA
Member of French Heritage Society, Boston Chapter
Patron of The Nichols House Museum, Beacon Hill, MA
Member of the Beacon Hill Civic Association, Beacon Hill, MA
Pro-Bono Architect for The BiNA Farm – Therapeutic Riding Center
Contributor to New England Conservatory of Music, Boston, MA
Member of the International Hall of Fame, Newport, RI
Sponsor of Annual Taste of Beacon Hill, Beacon Hill, MA
Sponsor of Beacon Hill Holliday Stroll, Beacon Hill, MA
Exhibitor at Art Show "Illuminations" benefitting Cancer Patients at Massachusetts General Hospital, Boston, MA
Exhibitor at French Cultural Center, Boston, MA
Illustrator for Children's Book – "Fireflies in the Night" published by Three Bean Press
Pro-Bono Architect for Larz Anderson Auto Museum, Brookline, MA
Juan Guillermo Uribe Rubio
Board of Directors Beacon Hill Business Association, Beacon Hill, MA
Pro-Bono Architect for the Larz Anderson Auto Museum, Brookline, MA
Trustee at the Larz Anderson Auto Museum, Brookline, MA
Member of the Beacon Hill Civic Association, Beacon Hill, MA
Pro-Bono Architect for The BiNA Farm – Therapeutic Riding Center
Member of the International Hall of Fame, Newport, RI
Co-partner at Margaret Howell & Associates – Annual Gala The Winter Ball at The Boston Park Plaza, Boston, MA
Federation du Saumon Atlantique Dinner Committee Member at The Country Club in Brookline, MA
Sponsor of Annual Taste of Beacon Hill, Beacon Hill, MA
Executive Committee Member for Annual Taste of Beacon Hill, Beacon Hill, MA
Contributor to New England Conservatory of Music, Boston, MA
Sponsor of Beacon Hill Holliday Stroll, Beacon Hill, MA